An unmissable show, beloved by young and old alike: do not miss this award-winning Stunt Show, Europe's number one!
For the 2020 season, Hot Wheels City is getting ready to experience a new and overwhelming adventure!
Will our team of super drivers be able to face the challenge launched by their treacherous enemies? This time it's a highly technological and aggressive "robot" team!
Surely this stunning Stunt show will guarantee, as always, fun and suspense, reaching its climax with an unforgettable performance: the highest death lap in the world carried out on a unique and mammoth structure, designed specifically for this show.
The collaboration with Hot Wheels continues in this way, with a renewed and increasingly rich in surprising evolutions, incredible vehicles and hilarious gags. A crescendo of fun and adrenaline that leaves everyone breathless! 
Parksmania Awards 2016 winner: "BEST OUTDOOR SHOW"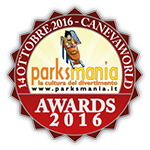 Show duration: 35 min.
Location: Stunt Arena.